Ego
Simple data options for complex people.
Ego is a platform that gives people direct control of the ads they see online.


In its simplest form, Ego displays individual ad interest groups as they are added to a user's account in real-time, giving them the choice to accept, remove, or set their own schedule for each interest group. Ego then automates the process of pushing or pulling those groups from their device, directly influencing the types of ads a user would see.

For ad platforms and data aggregators, Ego allows users to close the feedback loop, confirming or rejecting interest groups, and providing a clearer vision of what each individual is actually looking for. For the advertisers, Ego provides a higher level of assurance that the money spent on advertising is reaching the correct audience. And for people, Ego creates simple, flexible data options to match the complexities of everyday life.

Ego. Simple data options for complex people.
Data is inherently binary, but life isn't.

In the privacy space today, individual companies are making varied efforts to increase transparency for user and their data. One of the most recent contributions was Apple's introduction of a new feature for iPhone–titled App Tracking Transparency–that gives users a binary choice: "ask app not to track" & "allow" on startup of newly downloaded apps. This feature gives users an all or nothing choice regarding their data, a huge step in the right direction in the eyes of many privacy experts and users, but has gotten backlash from the tech industry because it impedes on their ability to monetize their service and customize it to fit each user.
While it's every user's right to opt out entirely of data tracking, putting that choice first with no explanation is the same as accepting terms and conditions without reading the contract first–there's no explanation of the transactional relationship for users themselves.
Which would explain the reported 96% of apple users with that feature who have decided to opt out entirely.
With Ego, users get more than just a choice between yes or no, they get the choice to say yes–but not now, or no–but maybe in the future.
People change over time, which means their data changes with them, so why are we stuck with just two choices?
The answer:
we shouldn't be.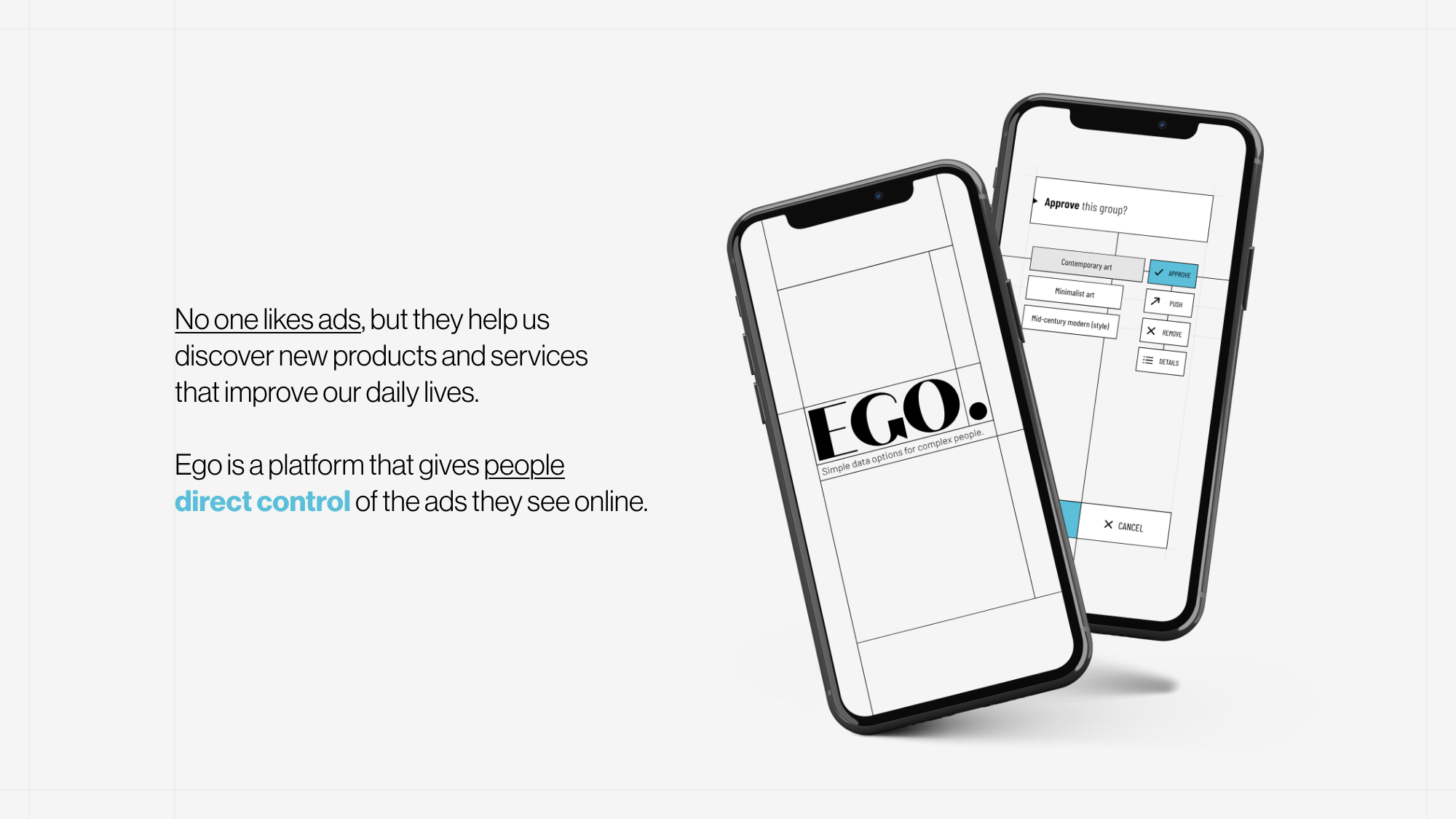 Simple data options for complex people.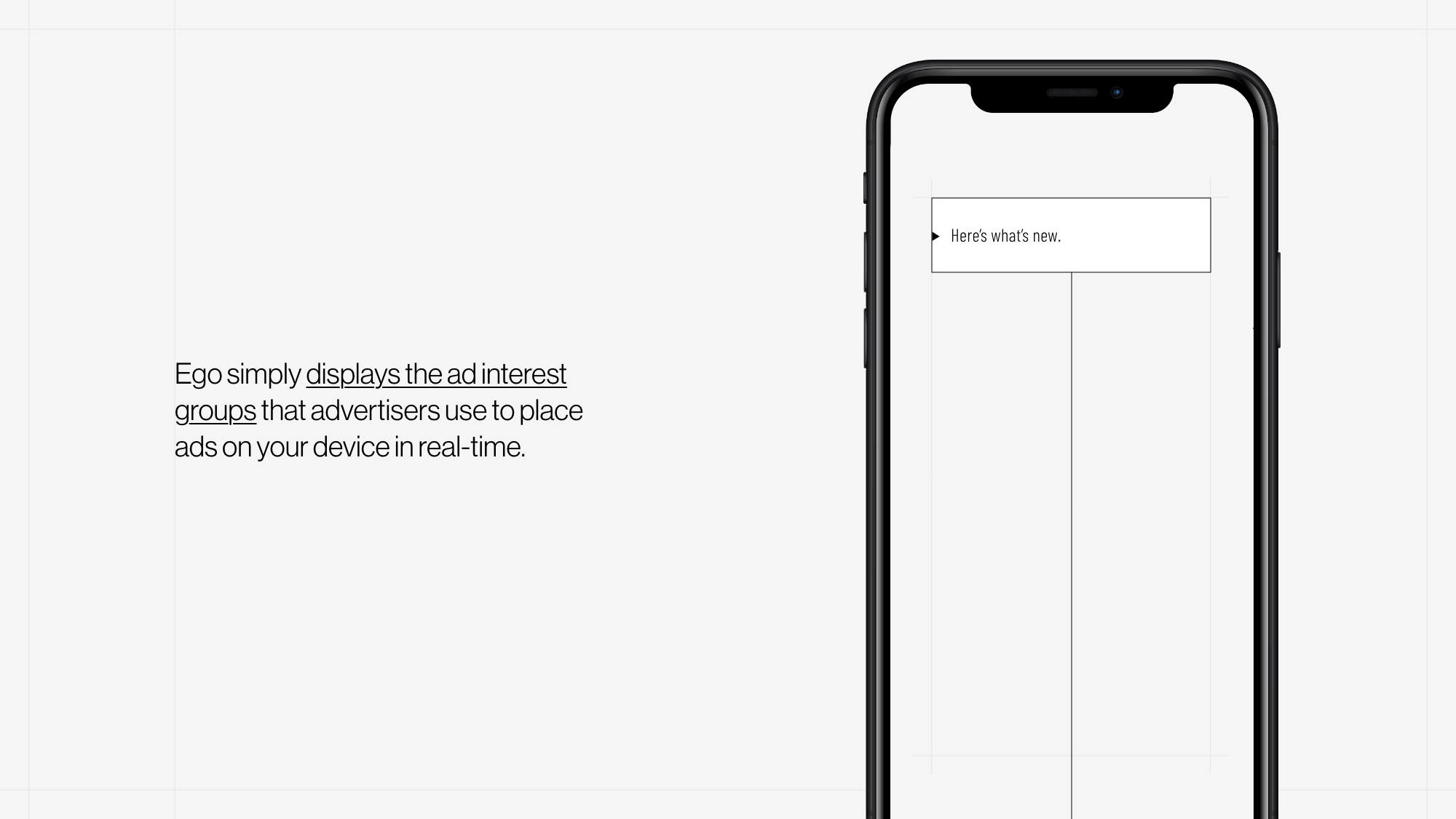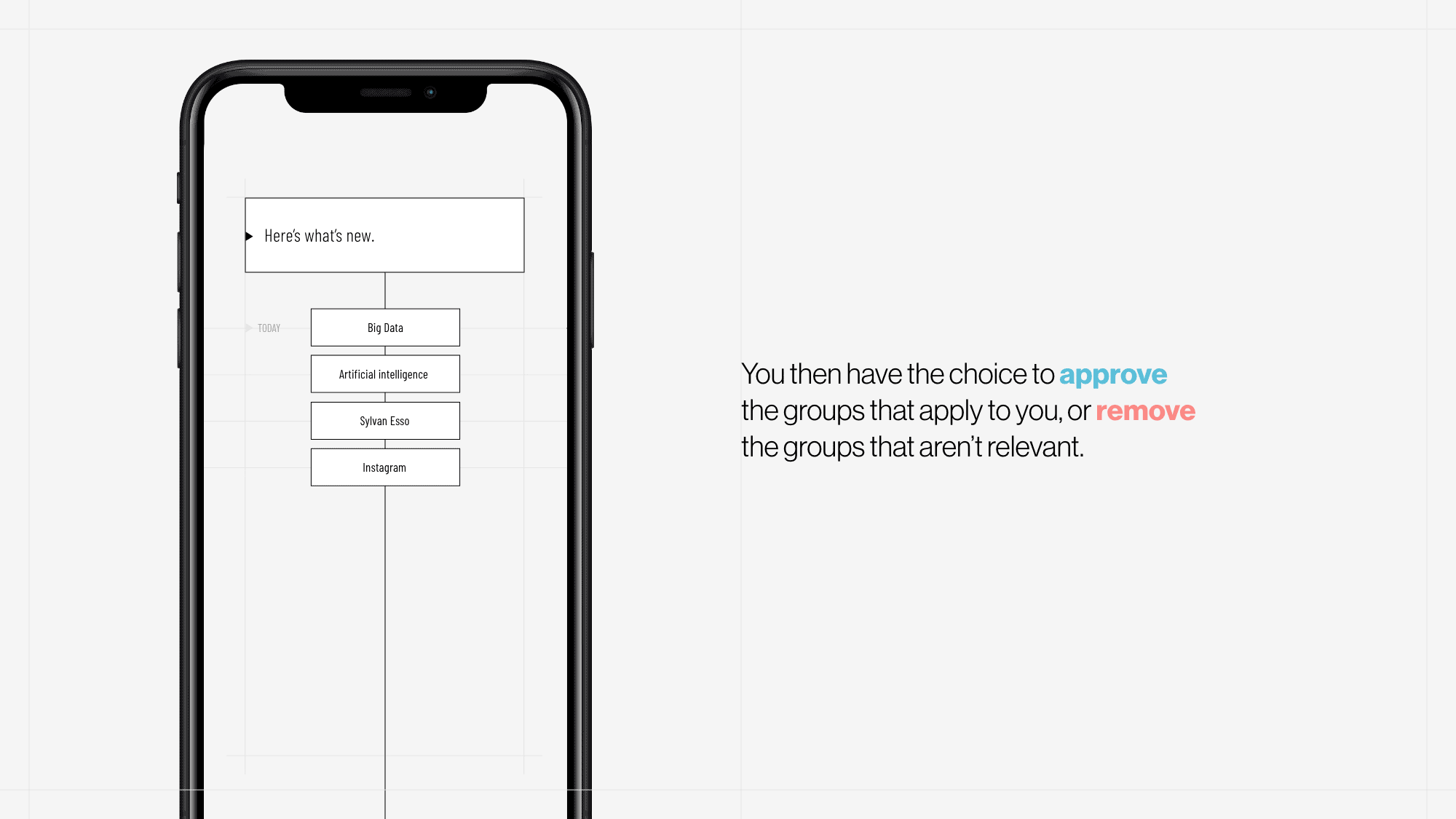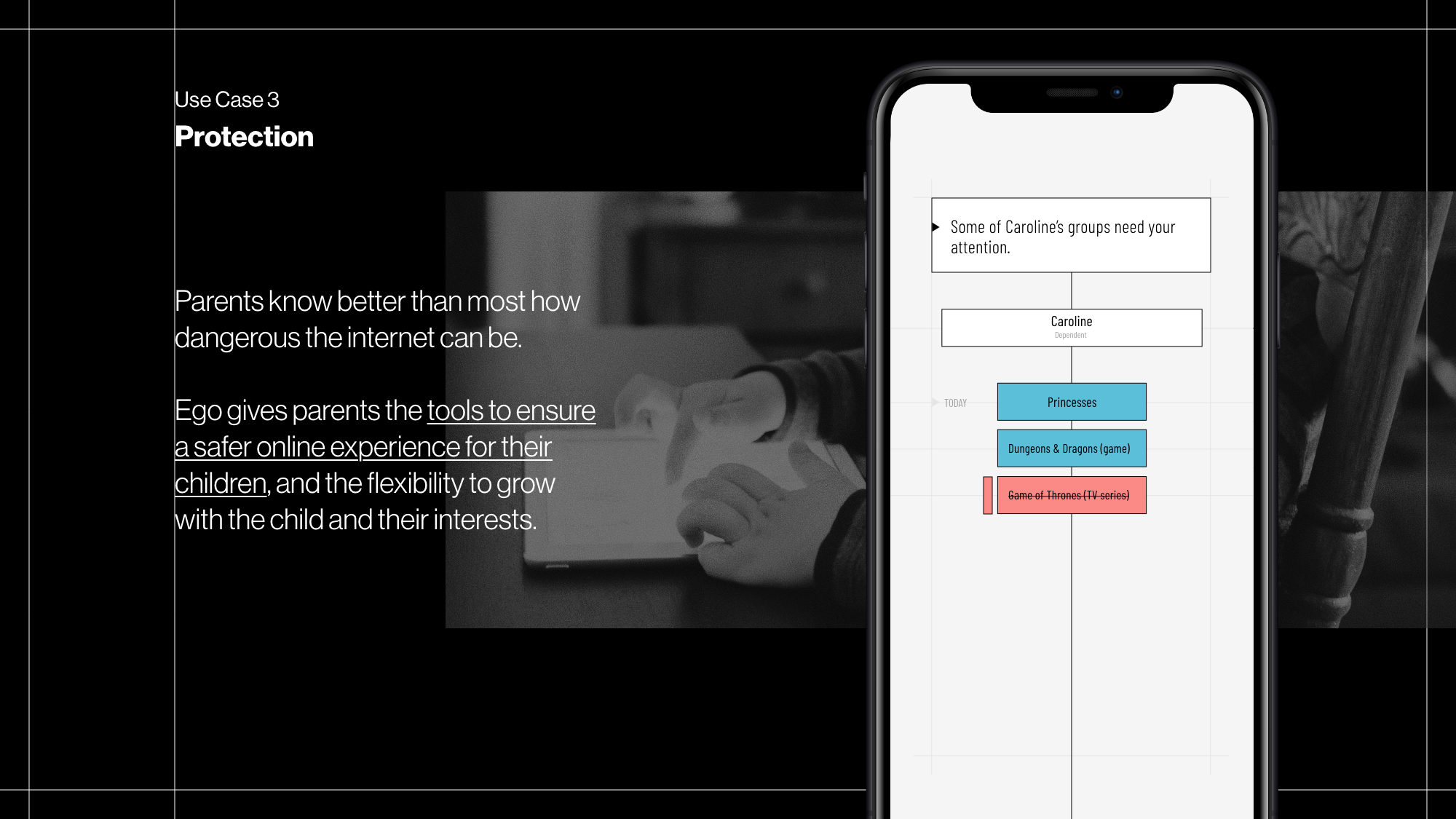 Summary


Most every tech product, service, or platform online today hosts some sort of advertising. Whether internally or externally driven, it's difficult to escape ads or sponsored content in any format. While the advertising industry has remained largely the same since it's inception, the addition of new monitoring and profiling technologies have raised concerns from the public, not only because of the general distaste for advertising, but because of a larger growing concern for privacy, and the individual's level of control.

Ego is a platform which takes steps towards mending both problems, advertising and control. Ego simply displays the interest groups associated with a user's device, and then allows them to approve, remove, or customize when, where, and how long each group should be associated with their accounts.

While the user's interactions are simple, interest groups are the underlying tool advertisers utilize to identify users and place ads. And since all advertising efforts are inherently an educated guess regarding what someone may or may not purchase, Ego lets users tell advertisers themselves. Reducing long-term ad spend for advertisers, increasing the value and accuracy of user data for ad exchanges and data aggregators, and giving individuals control.






Research


Research for Ego spanned 3 different categories over the last year and a half: People, Legislation, and Industry.

People – what do people understand about the concepts of "data" and "privacy", and do they understand how it applies directly to their individual lives. This body of research consisted of surveys, conversations with industry experts, and conversations with normal people.

Legislation – while it's important to know what people understand, it's also important to know what legal rights they have to their data. This body of research canvassed the majority of all important data privacy legislation from the 1970's to today, looking for patterns, trends, and important takeaways of legislation and the rights granted by each governmental body or body of legislation.

Industry – the third area of research was spent speaking with industry professionals in the advertising, data, and data privacy / compliance spaces. The goal was to be sure to know what's currently possible within the technology and information security spaces, spotting trends and problems in product releases and compliance requirements. This was largely consisting of conversations with engineers, info-sec experts, attorneys, and targeted ad experts, as well as just simply watching the news as this space is changing by the day.
Process


While Ego landed as a solution for control over your ads, it began as a hope to create a personal data OS, a place where any person could log in and access all data stored about them online, and then exercise their right to view, amend, and delete any of that information.

However, after realizing that concept is a little difficult for people to swallow, a late pivot turned me on to the ad space and the idea of using interest groups as the tool for direct communication with advertisers.

Ego as it currently exists and is presented is the first step toward this long-term vision, but it will take large steps in public education, legislative and policy changes, and most importantly industry incentive to make a system like this a reality. But, if I'm honest, we're a lot closer to that future than people realize.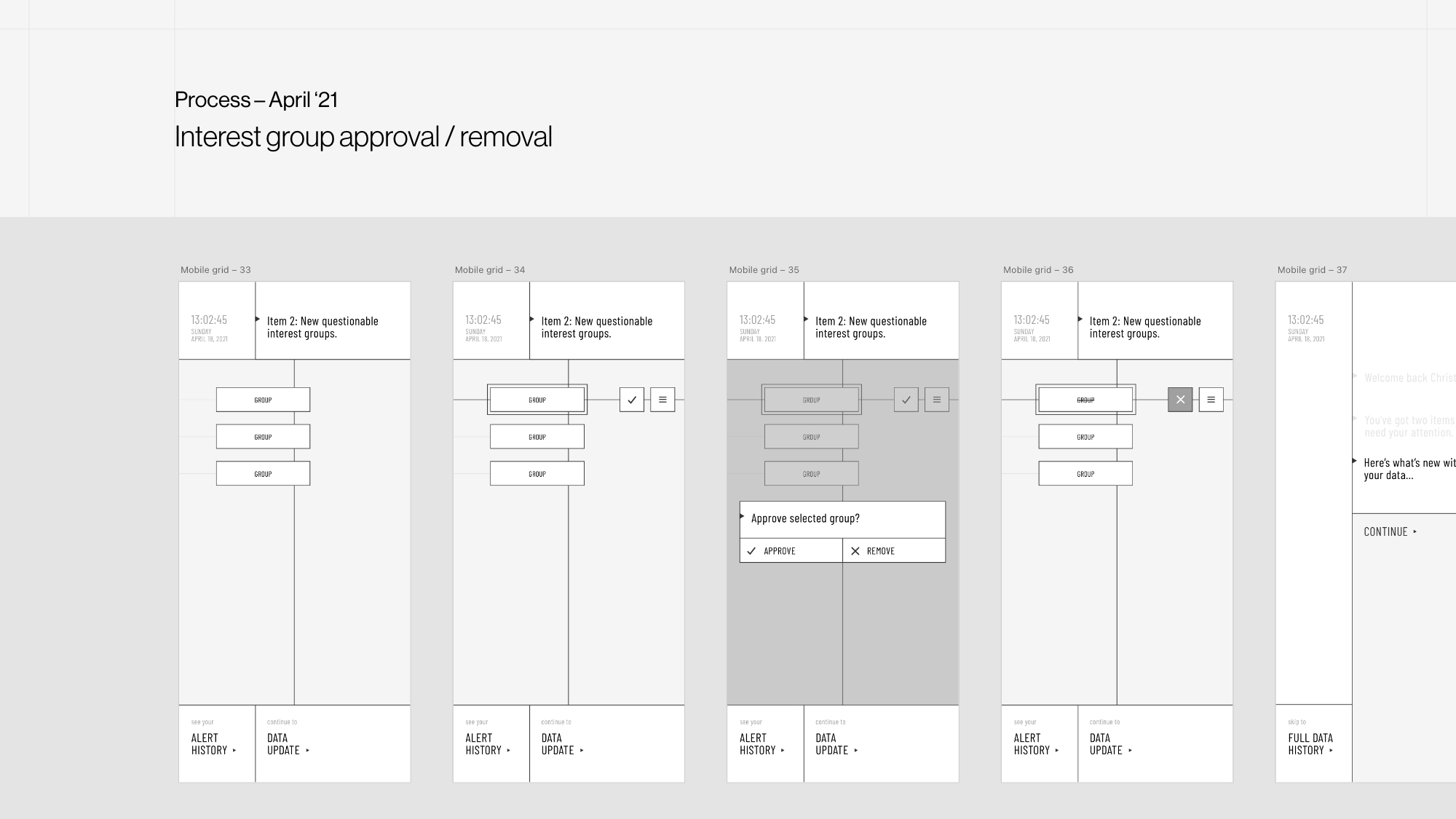 Key Insights


– A simple solution for people to take control and take advantage of their personal data collection, providing value in digital advertising for users

– First steps towards a larger ecosystem of products and services that give people access and control over all their personal data available and stored online

– First deep dive into a number of large fields: data privacy legislation and regulation, digital advertising industry, and the overarching systems that govern and run personal data collection, use, retention, and transfer or sale.
...