Synk
Designing the future of music listening.
Collaboration between RCA/Imperial x
Design Futures Lab at California College of the Arts (CCA)
x
Lawrence Azerrad of LAD Design
x Various Music Industry Guests
Team:
Eryn Bathke (CCA) -
Website
|
LinkedIn
Xiaohan Hannah Liao (CCA) -
Website
|
LinkedIn
Ting-Kai Wang (CCA) -
Website
|
LinkedIn
Synk is designed to help you create a deeper connection to your music and to yourself. Combined with your music, Sync is a tool to do everything from expressing yourself, to looking inwards through introspection, to immersing yourself in your home environment.

For only a two week design sprint, designing for the future of music was such a powerful experience in remote collaboration and design. Take a look at my team's concept video shown at San Francisco Design Week, along with other conversations with Lawrence Azerrad, Grammy award winning graphic designer and organizer of the charette; Leila Sheldrick, Head of the Global Innovation Design program at Imperial College of London & the Royal College of Art; and Sara Dean, Head of the new Design Futures Lab at California College of the Arts.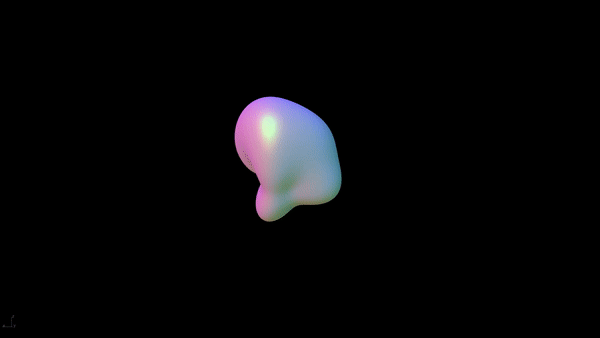 The future of music listening.

The music industry, even before COVID19, was undergoing massive change. From the formats of music production, to distribution networks, to financial models, to sharing and listening. Now, with most of the world sheltering-in-place, the experience of live music and shared music experiences is also changing. Music festivals are grappling with virtual experiences, and technology is playing a new role in developing both the social and experiential roles music plays in our lives.
Many recording artists are now seeking new ways to connect with their audiences. We know that long before the world began sheltering in place, the role of music as a social, experiential, and shared experience has been transforming dramatically.
Designers, musicians, festivals, producers, technologists and media venues are all responding to the challenge of using distributed platforms to reimagine the relationship between design, music and our most fundamental human experiences.
Design brief.

In light of this, I had the opportunity to work with my home program, Global Innovation Design at the Royal College of Art & Imperial College London; students from the MA Design program at California College of the Arts; Lawrence Azerrad, grammy award-winning graphic designer & charette organizer; and a whole host of special guests from across the music industry.
Our goal was to create proposals for new ways of listening, sharing, and experiencing music. Music is a vital social aspect of our lives. This unprecedented situation is an opportunity to reimagine the possibilities of social experiences, live performance, and sensory expression while we are distanced from each other. And how this imagination might expand our notions of musical expression when we are able to be together again.
Prompt:
Based on the rapidly evolving ways we discover, access, connect to and discover music,

how might your work engender deeper connection to expression, artistry, and community?
Ideation.

Our initial ideation ranged widely from topics surrounding expressing emotions, curating music listening in a more natural way, and creating a platform for real-time remote collaboration between musical artists and their fans. But through our process we landed on the shared vision of looking 10 years down the road, examining how we can more fully engage people directly in their own individual music listening experience, pushing to create a deeper connection between them and their music.
We narrowed down our position based off of four pain points:
Lack of connection (within the self and with others)
No time or meaningful space for introspection
Oversaturation of external experiences
Lack of immersive experience (that give meaning to people's lives outside of their personal homes)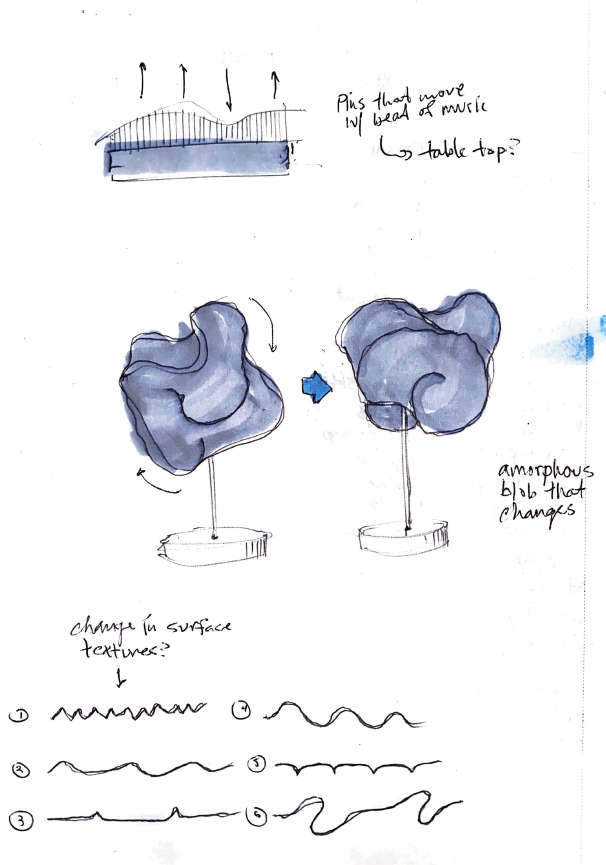 Early ideation sketches trying to define how this form would manifest itself in the real world.
Concept.


The overarching concept for Synk was based around a form, made from a new material that, in our minds, is the successor of today's ferrofluid; a magnetically reactive liquid made from oil and iron particles, at the most simple. This Synk fluid will be suspended, animated, and manipulated through precise magnetic fields.

The idea is that the form of your Synk is driven by two factors: First, your music as it plays live, having the specifics of the form defined by elements in the song. Second, your physical interaction with Synk itself.
Experimentation.

The form of the shape is controlled by both the movement of the music and the hand movements simultaneously, as you can see in the video below in Patrick's experiments.
Early iterations of the live interaction between the Synk fluid and direct user input.
First working iteration of synk, as developed by Patrick, prior to isolating the background.
Narrative & video production.


Our final deliverable for this project was a 2 minute pitch video, so we thought it would be most effective to position ourselves as a company, named Synk, here to help you personally sink into your own music.

From here, we built our narrative around someone living their everyday life, and showing the key areas that Synk can help them grow. This was my work came into play, filming half our own footage and pulling half from stock, due to the time restrictions, in order to show that Synk can live in any and all environments.
We wanted to highlight the little moments in your day, like sitting down at your desk to work from home, and Synk is there, pulsing to whatever music you've got on.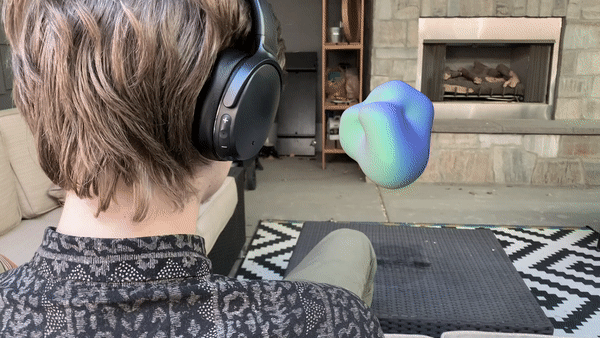 Our second highlight was the power of concentration or meditation and how it can be facilitated on a daily basis through Synk.
And lastly we wanted to encourage your personal interactions with Synk, allowing you to create your own direct relationship with your Synk device—moving and interacting with the movement of your hands, while still in sync with the music.
Conclusion.

All in all, this was a phenomenal experience for how short the project was. Our final design is speculative in nature and would obviously require additional tech advances to be made possible, but we were able to make it functional in digital space! Which is so powerful and a clear indication that it can be done.
Many thanks to my team, they all saw this project from different perspectives, and please take a look at their sites to see how they approached and furthered this project. Their site links are next to their names at the top.
Take a look into the background of what it took to develop this concept remotely, and details of the collaboration with the Royal College of Art, the Imperial College of London, and the California College of the Arts.
...