Songwrights Apothecary Lab
for esperanza spalding
About the lab.
pulled directly from
songwrightsapothecarylab.com
Songwrights Apothecary Lab (a.k.a.
S.A.L.)
seeks to respectfully dip into the healing seas of music/musicianship/song, and distill a few grains of piquancy which carry the life-renewing flavor of the unfathomable ocean of human resiliency, then work those grains into new musical formwelas, to enhance the healing flavors and intentions innate in all works of devoted creatorship.

In this ongoing lab, we experiment with sprinkling the many distillations of S.A.L. into our song wrighting, and invite you to taste/hear these enhanced essences and flavors.
(S.A.L. is also a lab esperanza curates at Harvard)

Half songwrighting workshop, and half guided-research practice, the Songwrights' Apothecary Lab (S.A.L.), seeks to develop a structure for the collaborative development of new compositions designed to offer enhanced salutary benefit to listeners.

The course is rooted in a transdisciplinary station, orienting itself towards archives and literature that study healing strategies drawn from a diverse range of music-based creative and therapeutic practices.
All Formwelas (songs) from the S.A.L. are created through our research, divination, intuition, musicianship, taste, inspiration, and collaborative effort to design songs that enhance a specific salutary affect.
The formwelas offered here are not presented as potential "solutions". Rather, they are responses to the ongoing question guiding the beings collaborating within the Songwrights Apothecary Lab.
those beings being:
the 2020' and 2021' cohorts of student songwrights, student researchers (including esperanza), and the practitioners comprising our guiding council.

Dr. Shorter

ancestors, and artisans of the lineages informing and doing the real work within this work.
"If one of my friends is ill, I'd like to play a certain song and he will be cured"
– John Coltrane
"us too."
– esperanza spalding and the S.A.L.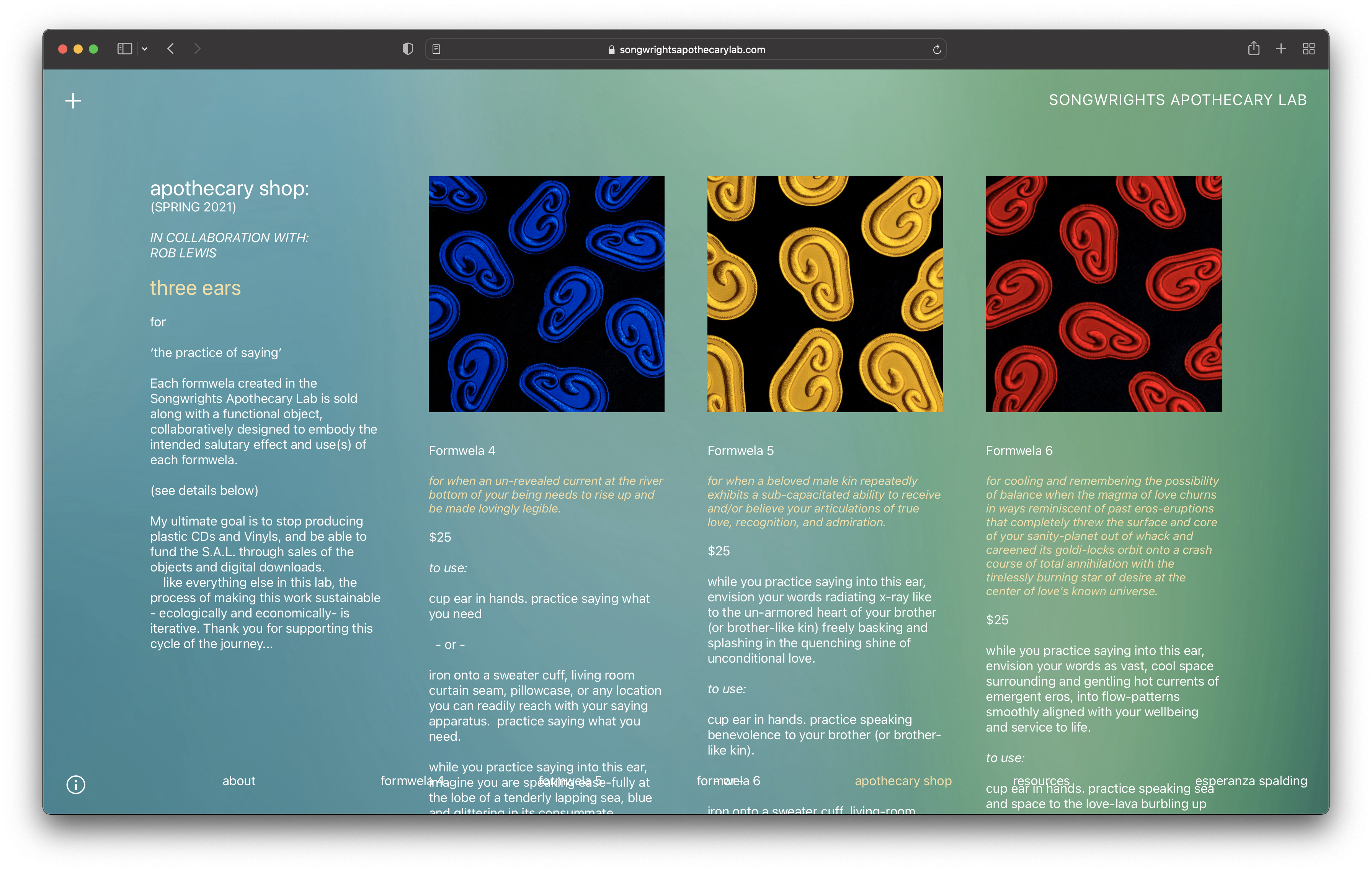 LAD + SAL.
pulled directly from:
LADDesign.net
"LADdesign and Esperanza Spalding have collaborated on her album art since 2016 spanning four album cycles (Emily's D+Evolution, Exposure, 12 Little Spells, Songwrightsapothecarylab). The four time Grammy award winning experimental jazz fusionist, bassist, singer, songwriter and LADdesign have ideated closely on developing visual languages that serve to articulate the variously diverse conceptual themes of each album project.
"For her most recent album and multidisciplinary endeavour, Songwrightsapothecarylab, LADdesign approached designing and art directing the comprehensive ecosystem for all visual components of the project as a radically unique challenge. The experimental Songwrightsapothecarylab evolved out of a series of ongoing workshops with musicians, neuroscientists, psychologists, ethnomusicologists, and other specialists driving at a functional goal of developing music or "formwelas" and accompanying objects (project specific jewelry) that served specific healing purposes.
"Through art direction of videos from Mecca Films, a website portal that serves as the key point of access to each branch of the project, photography and catalogue for the jewelry, social media assets, traditional album artwork and packaging, our goal was to help Spalding share the salutary objectives of the whole project. The design system was developed to not only make the venture clear but to illuminate the intentions and artistry of every practitioner involved, while captivating and engendering usage among the audience."
Inspiration.

All inspiration for the SAL site was pulled from 2 sources: Lawrence Azerrad's graphic system designed for the physical album, and from esperanza's express direction to have the site feel light, fluid, and dreamlike.
Images from esperanza spalding
Pallettes from Lawrence Azerrad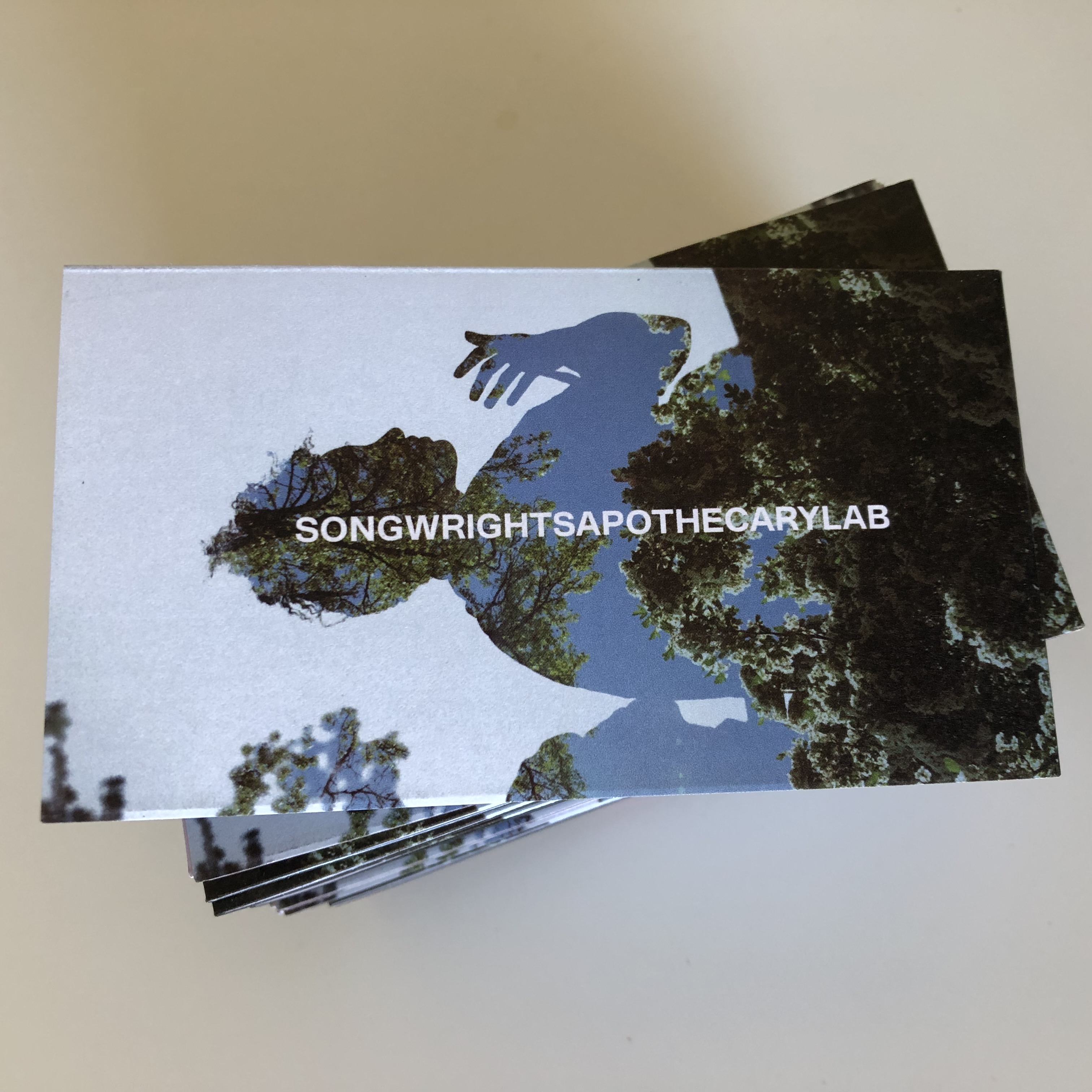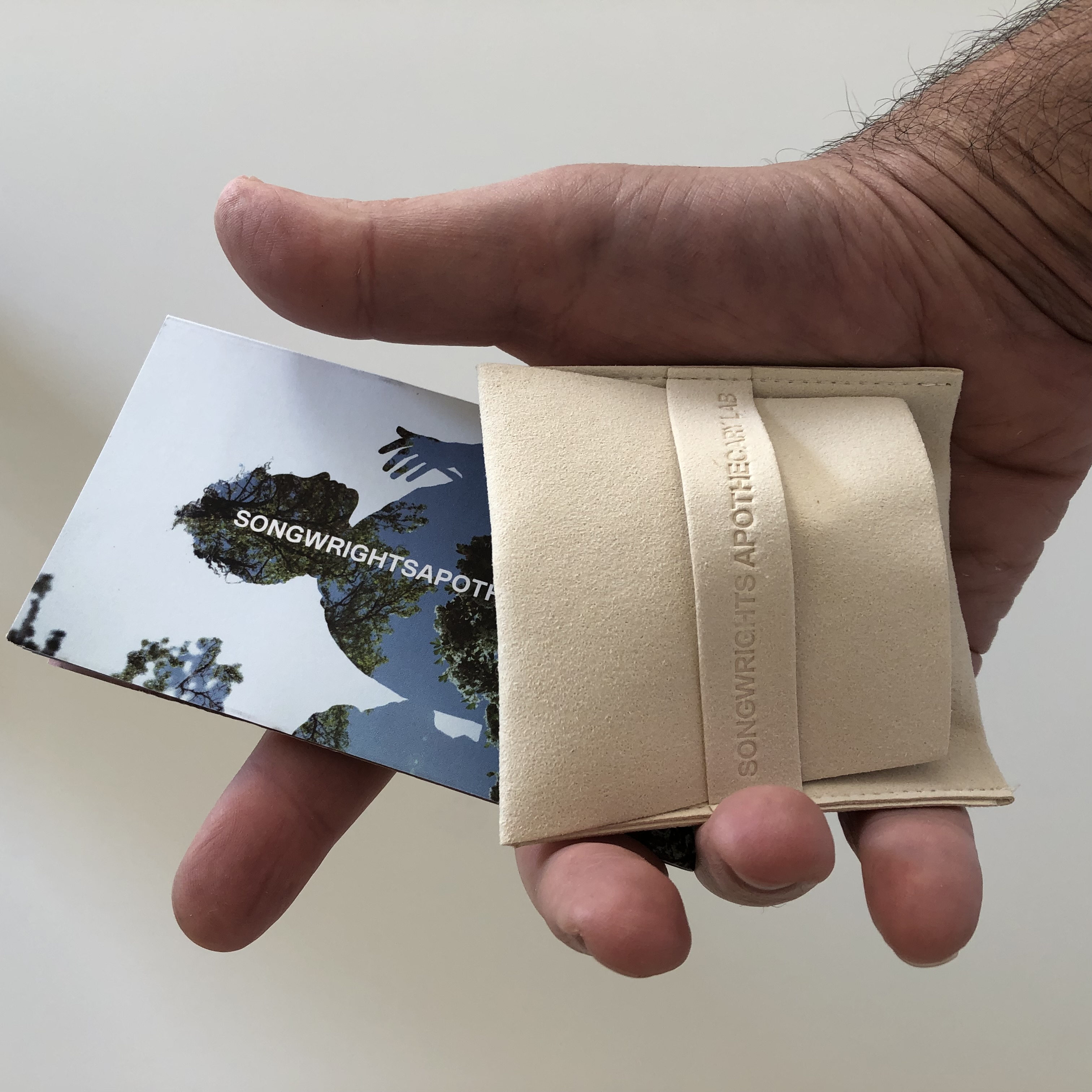 Album assets by Lawrence Azerrad
Process.

While on the surface the Songwrights Apothecary Lab appears to be just another album of music, the body of work behind the music was almost overwhelming. The album is composed of 3 sections, dictated by the location in which the songs were developed and recorded. Each song, or "formwela", is accompanied by a description, "ingredients"–esperanza's academic description of the song which ranges from a few paragraphs to entire essays, and credits for the song.


The greatest challenge in designing the SAL site was balancing a fluid navigational experience with a very clear information heirarchy.
"How can we keep things simple for those wanting to only experience the music, but how do we allow those interested to dive deeper into what the music means?"
Initial web comps and inspiration from Lawrence Azerrad
I landed on utilizing Cargo Collective's unique ability to simply stack menus on each page, so while the visitor is within each of the three locations, they know which songs are contained within and where they are in relation to the rest of the album itself. That, in combination with an open and almost undefined homepage, leaves the visitor open to explore, without getting lost entirely.
Early website mockups
Conclusion.

Working with esperanza is an experience I'll never forget. Her ability to verbalize feelings and emotions through words, lyrics, and music is profound, but translating those thoughts and manifesting them through a static website is more of a challenge than I ever expected.
I highly recommend the album and the music videos as well, an experience in itself. Take a listen at
songwrightsapothecarylab.com
...