I Need A Job...
A tool developed to show young designers what kind of job options
they have.
It all started with a group of undergraduate design students looking for a job after graduation, and as their professor at the time, I was happy to answer questions and give advice. They were questions of not only where to begin, but what kinds of jobs they should be looking for.
"Well,
we don't know what we don't know."
These are question all designers have come across at one point or another, no matter their expertise or area of interest. As someone who's navigated these waters before, I decided—
why not show them?
Starting from the S&P 500's industry sectors–a list of the 11 most prominent business verticals in the United States–I Need A Job… was built to help designers explore their options, either starting from an industry they're passionate about, or simply exploring an aspect of one job that peaks their interest.




As job titles and descriptions vary company by company and year to year, this tool is not meant for precision, but instead to provide a window into a closed system that may have been incredibly difficult to explore without the necessary understanding, time, or connections.

Broken down, each column defines the different levels of hierarchy within the design industry–the largest (sectors) on the left, and the smallest (data types) on the right. As users make individual selections, they're shown how it relates to items in adjacent columns, giving them the chance to start mapping out their future.

Once complete, I Need A Job… will be a web based tool that enables users to explore various opportunities available in the design industry, understand the commonalities in roles across companies and verticals, and take the first steps towards securing their next big opportunity.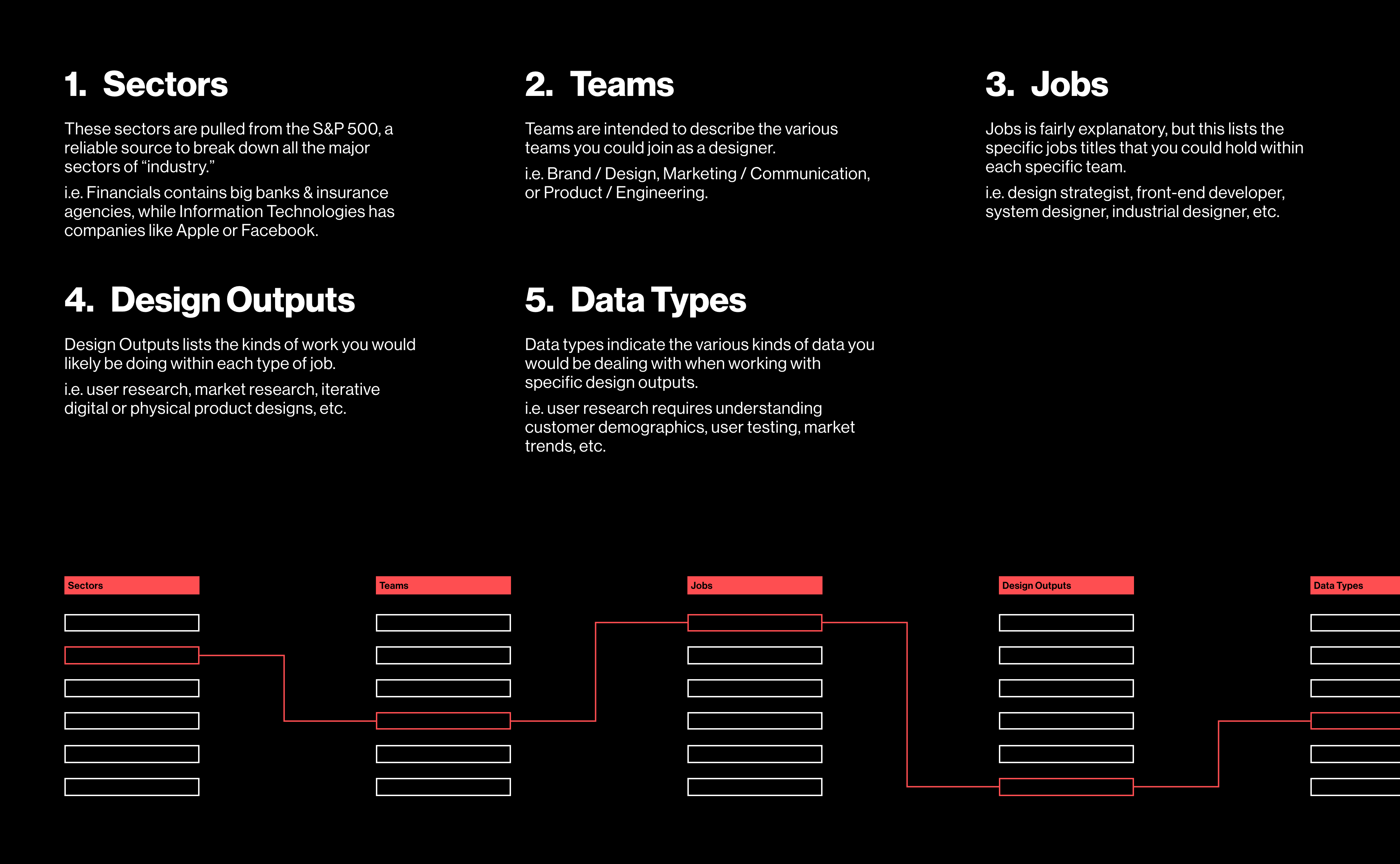 Category breakdown
Full system diagram
Work in progress.


This tool is still in development, but will hopefully be up and running in the next couple of months to be able to play around with yourself! Check back in here for updates.
...